"Dear friends of our birds, Thanks a lot for your great support for our fight against the massive bird slaughter in Egypt!
"Today I want to let you know that our common efforts are already bearing fruits: The German ministry of environment has reacted immediately and demanded an end to the trapping of migratory birds from the government of Egypt. It has also provided 20,000 Euro for urgent activities in the fight against the bird slaughter in Egypt. This money we are using to organize an international meeting including representatives of the Egyptian ministry of environment to develop an action plan aimed at ending the bird trapping.
"Since October this year, my organization NABU, is already employing an expert in Egypt who is preparing this plan and will coordinate its implementation.
"There is also hope on a higher political level: The new Egyptian environment minister, Dr Laila Iskandar, recently promised to the ambassador of Switzerland in Kairo, to attend to this matter. Currently an internal working group is being set up in her ministry, whose task it is to stop the bird slaughter.
"I have asked the Egyptian ambassador in Berlin for a meeting to hand him the petition. The meeting is going to take place probably in the end of November / beginning of December. All signatures we will receive until then are going to be counted out and handed over.
"Therefore, there are some more days remaining to collect further signatures. So far, we are 75,000. Let's make it 100,000! Please help us, spread this petition again. Please advise all your friends and relatives to this petition by sharing the following link on Facebook or via e-mail:
http://www.change.org/petitions/stop-the-massive-bird-slaughter-in-egypt

Thanks a lot to all of you – together we can stop the bird slaughter in Egypt!
Yours,
Lars Lachmann
Bird Conservation Officer
NABU (BirdLife International partner in Germany)
.
From: Sarah Sidgwick
Sent: 22 April 2014 11:39
Subject: Upcoming events at Wyming Brook
Dear all,
Thanks to everyone who came to the last Reserve Advisory Group meeting for Wyming Brook and Fox Hagg. The notes from the meeting can be downloaded from our website, here.
Up with the larks: For the early risers among you, we will be running a guided dawn chorus walk at Wyming Brook on Saturday 17thMay, 5.30am – 7.30am. Meeting at the Redmires Road car park, our walk leader will take us around Wyming Brook Drive, helping to identify the birds that we see and hear along the way. Please note that booking is essential and places are limited, so get in touch soon to reserve your place. To help us cover the cost of the walk leader, there is a suggested minimum donation of £4 per person, or £2 for members of the Wildlife Trust. Hot drinks will be provided to set you up for the rest of the day!
River explorers: In May half-term, we will be holding an open drop-in event for younger visitors to the nature reserve. We will be setting up near the stepping stones at Redmires Road on Friday 30th May, 10am – 12pm. Activities will include stream dipping, wildlife ID, and bark boat races. Join in anytime, and feel free to bring a picnic to enjoy afterwards.
Reserve Advisory Group: The next Reserve Advisory Group meeting will be held on Thursday 31st July, 7pm – 9pm. We will be meeting on site, again at the Redmires Road car park, for a walk around Wyming Brook to discuss ongoing management and any issues on the site.
Best wishes,
Sarah Sidgwick
Community Wildlife Ranger (jobshare with Hannah Wittram)
Sheffield and Rotherham Wildlife Trust
Please note that I work part-time (Monday, Tuesday & Friday), for any
urgent matters outside of these days, please contact This email address is being protected from spambots. You need JavaScript enabled to view it.
0114 263 4335
.
Welcome to the new site
Three main things to remember:
You log in to access members-only stuff - enhanced Sightings, Sites and Publications - all material you read
You access it from the top menu rather than the side menu
Other material and functions you access from the side menu just as Guests do - includes all the material you write/submit, i.e. Sightings, Photos and Description Forms
Logging in
Click 'Login' in top menu and enter your SBSG registered email address plus the password from your email. You may also check the 'Remember me' box to speed the login process.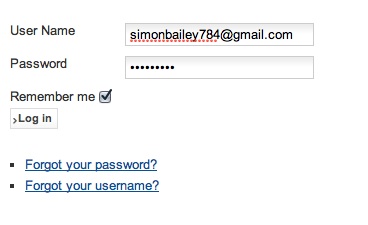 Click 'Login' checkbox to see this dialog: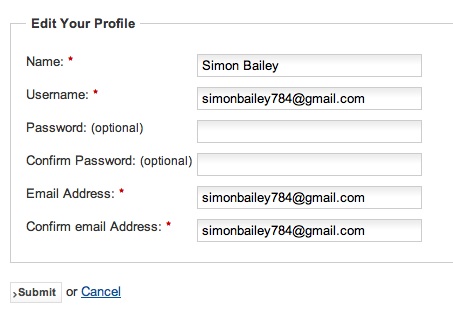 This allows you to change your password if you wish; ignore the fact that the password field is empty (quirk of the software). To change it just type it in the 'Password' and 'Confirm Password' boxes and click 'Submit'.
NB if you don't wish to change it, just click 'Cancel'.
At any time, you may change your password from the 'My profile' link in the top menu.
Sightings, Sites and Publications - the top menu
Sightings includes 'Recent News' and sightings 'By site' as before, but also includes a new function 'My records'. This allows you to browse all the records you've submitted over the past few years.
Side menu items
The ones you will use are mainly 'reference' items, like Meetings and Trips' or 'Visible Migration', and are almost exactly as before. The exceptions are the submission of Sightings and Description Forms, which you will access from the Sightings menu as before.
.