Welcome to the SBSG website
Sheffield Bird Study Group was formed in December 1972 as a forum for birdwatchers in and around the city with an active interest in ornithology. The group's recording area, covering twelve 10km squares with the city roughly in the middle, is hugely diverse, stretching north to the outskirts of Barnsley, south to Chesterfield, east to the lowlands beyond Rotherham and Bolsover, and west to the highest tops of the Peak District National Park.
We aim to promote an interest in birds in the community, provide something of interest to all levels of birder, co-ordinate fieldwork and recording in the area, and work with and complement the work of like-minded local and national organisations for the benefit of birds. SBSG is registered charity No 510857. Click here for more.
Diary Dates
Indoor Meetings & Field Trips
ZOOM Meeting - Weds 10th Feb - 7.30pm
(Joining details will be sent to members via email)
Bird Migration at Besh Barmag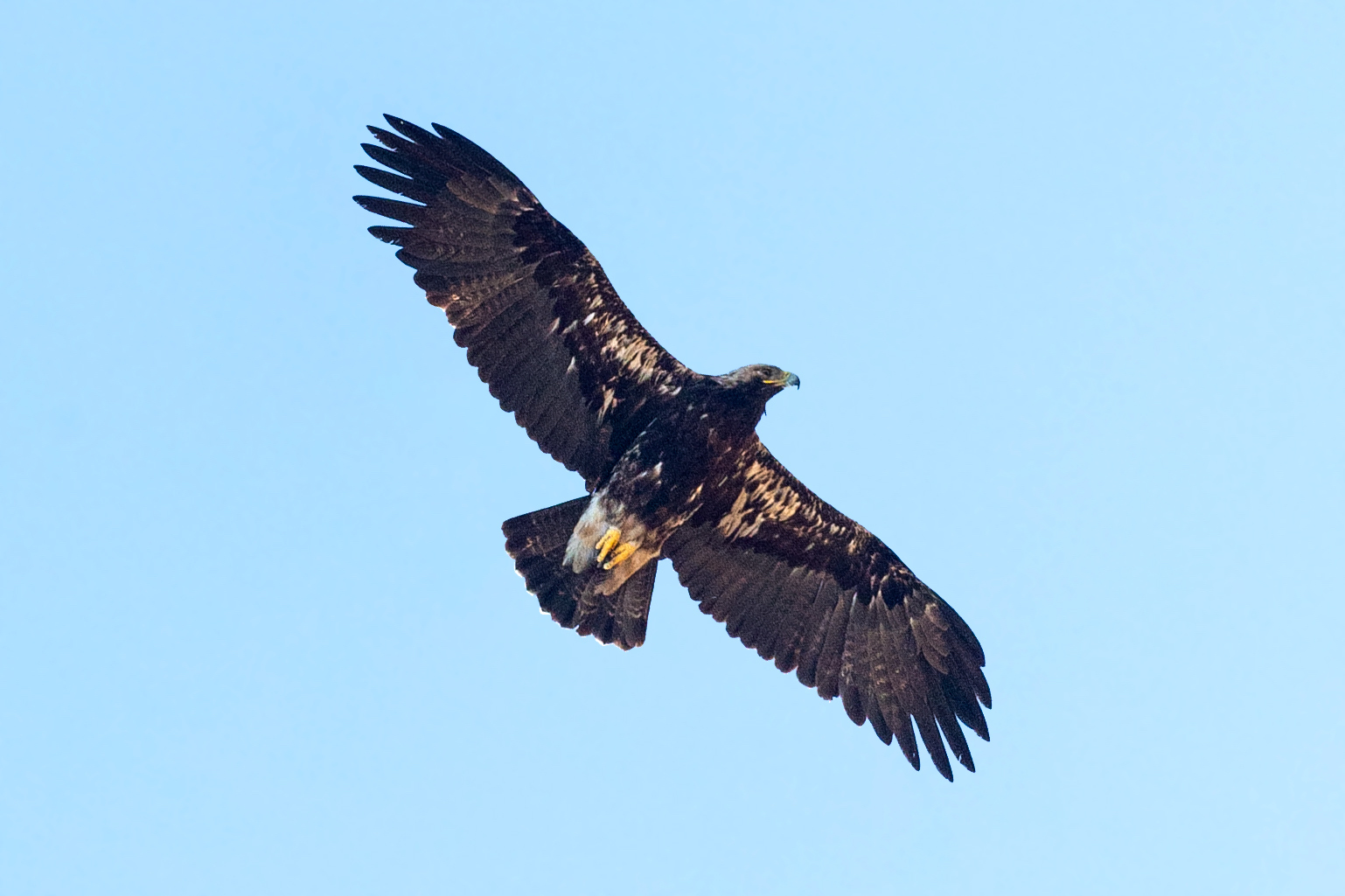 Andy Butler

Andy is a life long birder living in the Peak District with interests in bird identification and migration - he has a very informative Wildlife Diaries blog which can be found here. This evenings talk covers his trip to Besh Barmag, Azerbaijan 17th October - 5th November 2019. Many species were recorded including Raptors, Gulls, Warblers, Thrushes and Chats........to name a few. This will no doubt be a very interesting talk!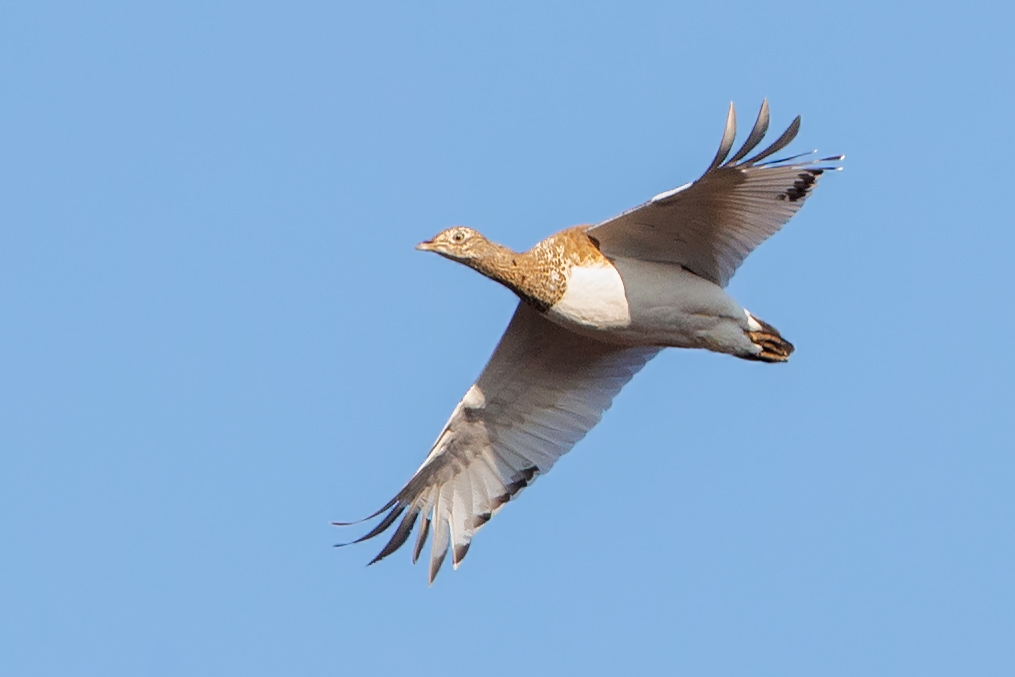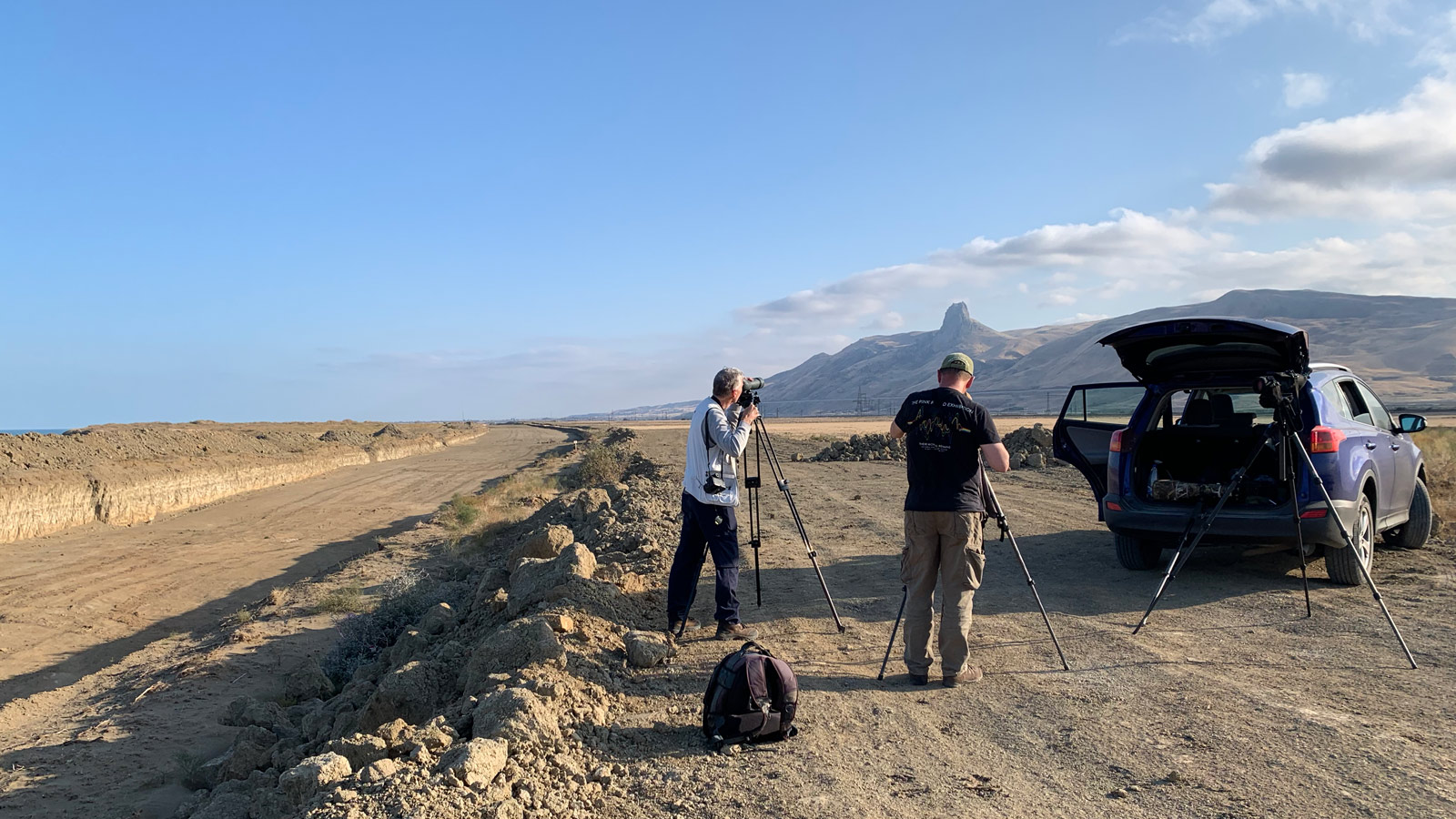 ---
Coronavirus Update
Dear Members,
As 2020 draws to a somewhat shambolic close, I know I won't be alone in raising a glass to mark the end of what has been a truly memorable year – for all the wrong reasons! From lockdowns to punch-ups over loo-roll, it's been a challenging 12 months, but there's no doubt that birding has just about got me through.
One of the biggest disappointments of this year has been the fact we've not been able to engage with SBSG members since the AGM in March. So, as we enter the New Year, I hope you enjoy your free roll-over membership for 2021 and can find time to join our remote programme of indoor meetings via Zoom, which will be the new normal for the time being.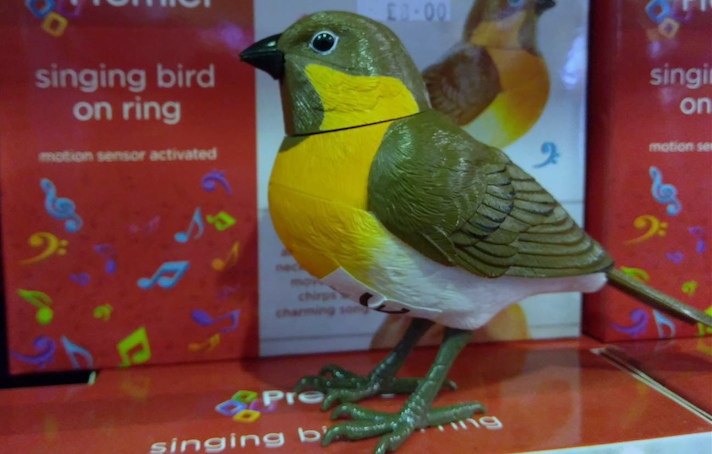 Robin x Corn Bunting hybrid - Chatsworth| Richard Hill
In the meantime, I hope you and your families have a great Christmas despite the current circumstances and enjoy a safe and bird-filled New Year.
With best birding wishes,
Richard Hill
Chair
Sheffield Bird Study Group – 24 December 2020
---
News
Birds in the Sheffield Area 2018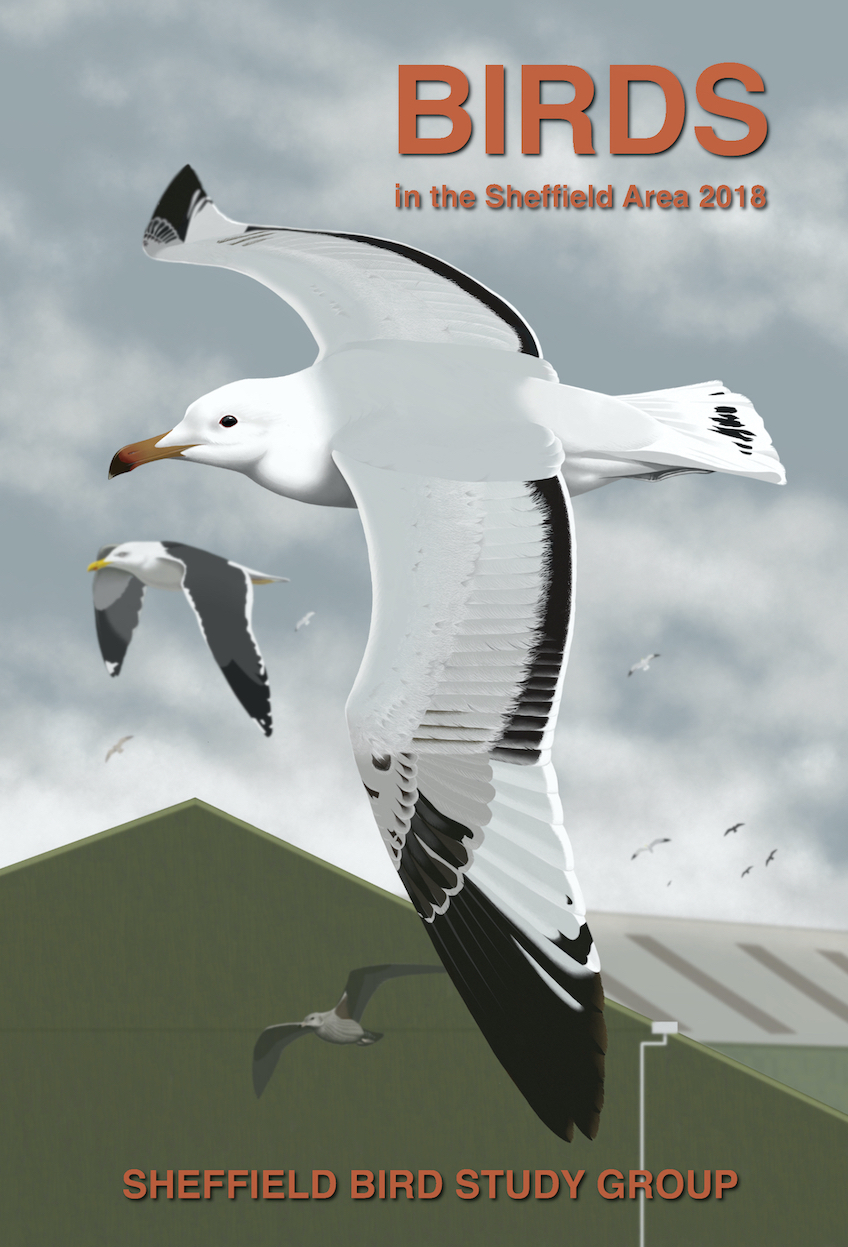 Editor: Richard Hill
Birds in the Sheffield Area 2018 was published in December 2020 with help of the major sponsors The National Trust, Foothills and Sheffield Photographic Centre
The cover of an Audouin's Gull at Norfolk Bridge was created by Paul Leonard and the text is interleaved with colour illustrations by Ben Green, Richard Dale and Paul Leonard. The colour photographs are courtesy of C. Brelsford, A. Deighton, P. Garrity, R.D. Hill, M.N. Reeder, and M. Smethurst. It has a total of 195 pages.
This edition is dedicated to the memory of Jon Hornbuckle - 1943 - 2018.
Main Contents:
A review of the birding year, 2018
Systematic List of records for the year 2018
Arrival and departure dates of migrant species in 2018
Audouin's Gull at Norfolk Bridge - New for the Sheffield Area
Herring Gulls in Urban Chesterfield - A New Breeding Species
A Study of Breeding Sand Martins on the Lower Don 2018
Obituary - Jon Hornbuckle 1943 - 2018
A colour map of the SBSG recording area
The cost is £7 if collected, or £9.50 to include postage and packing. The report is free to qualifying members.
Anyone interested in obtaining a copy of this, or any other of our annual reports, please email This email address is being protected from spambots. You need JavaScript enabled to view it. for further details.
---

"Still looking for Christmas presents? If you shop online, don't forget to support SBSG at no extra cost by channelling through easyfundraising or Smile Amazon - Here's how to do it
---
November Newsletter now issued
Members please check your inbox / trash / junk mail to ensure you have received it!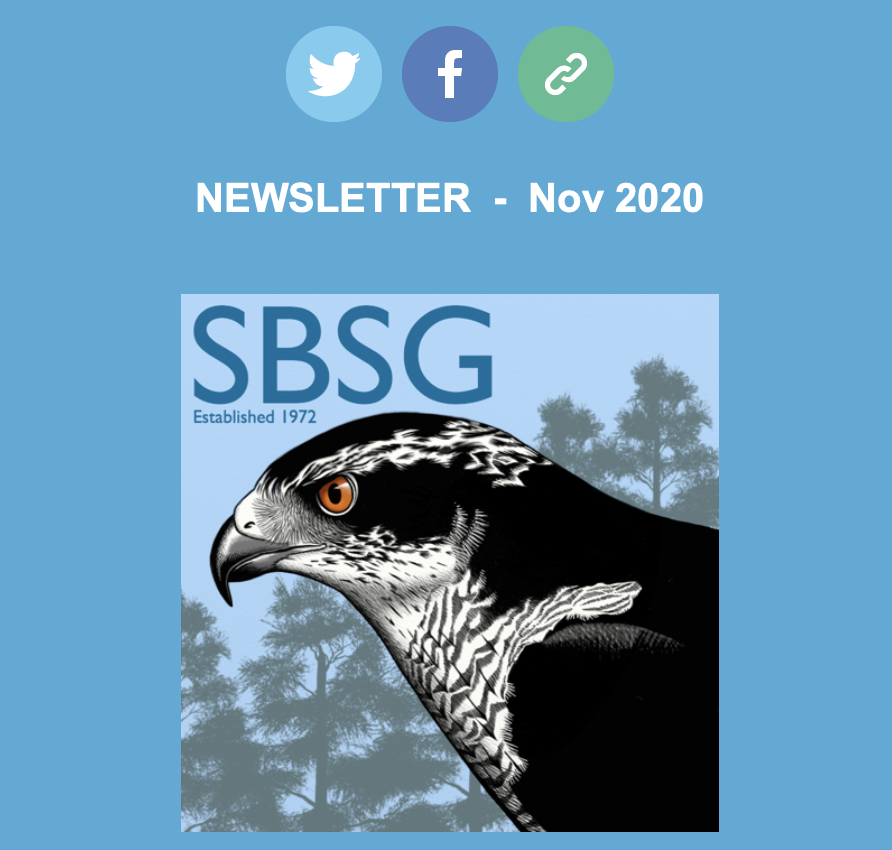 ---

Stanage Forum Steering Group - welcome to our 2020 update here
---
FAIR ISLE BIRD OBSERVATORY APPEAL
Please see below a letter from the Fair Isle Bird Obsevatory Trust regarding an appeal to support the rebuilding of the Observatory. For information or to donate please visit http://www.fairislebirdobs.co.uk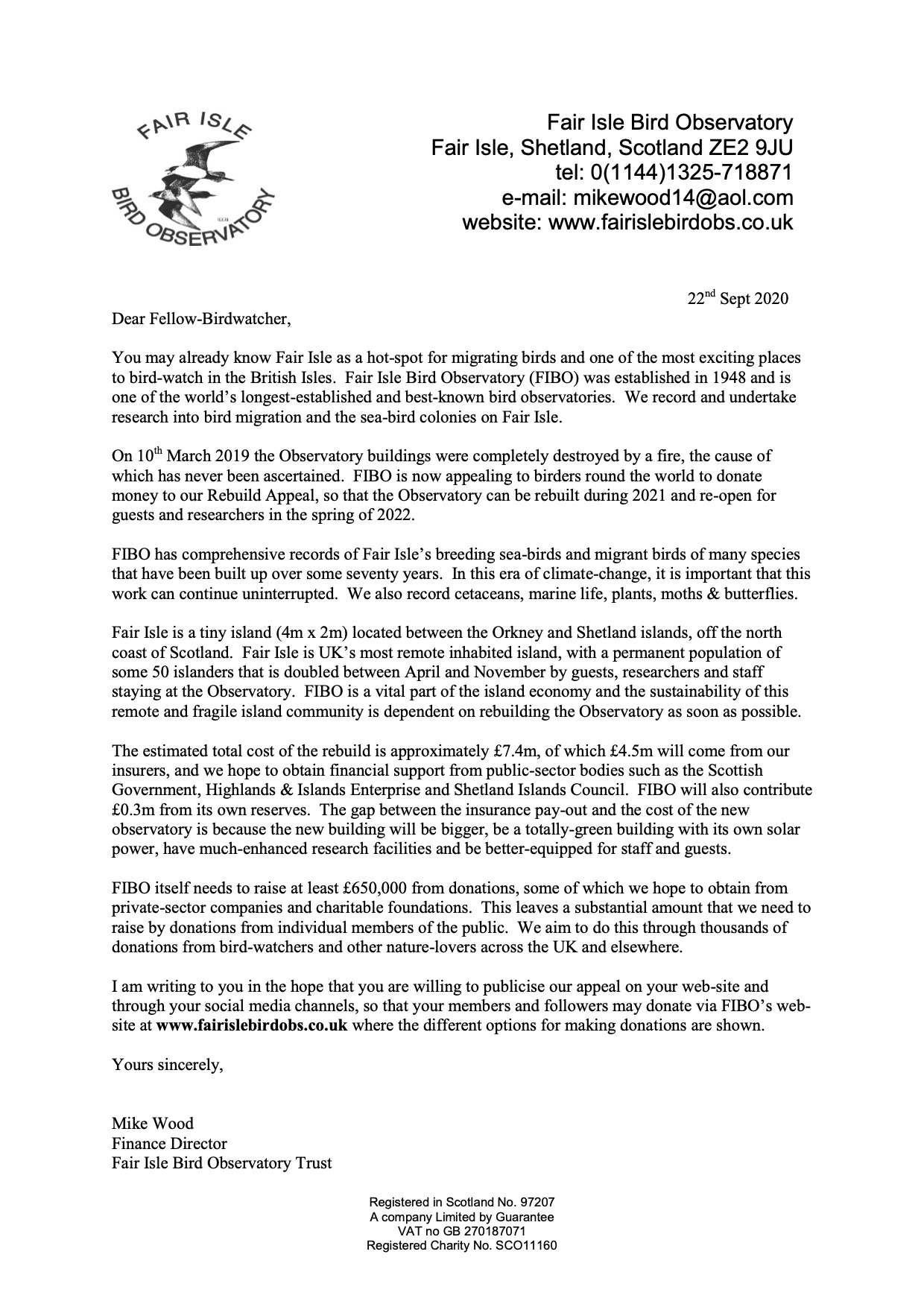 ---
BOOK RELEASE
The Northumbrian Garden Parrot - Pete Brown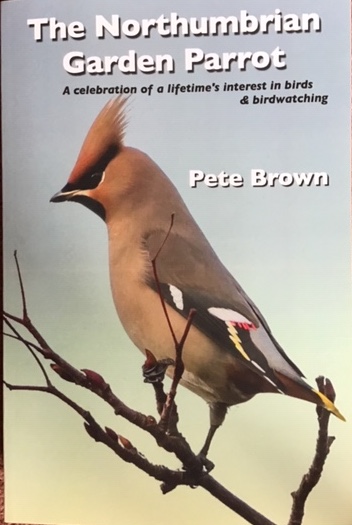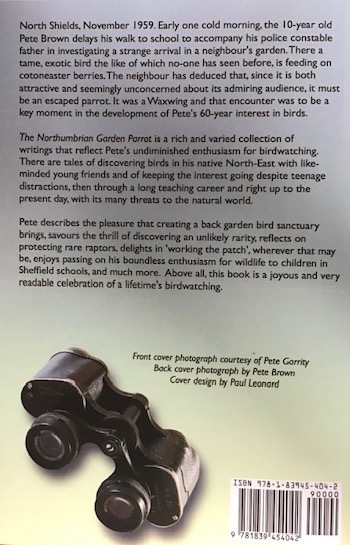 Pete has been a birder in the Sheffield area for over 40 years and an active and involved member of the SBSG for much of that time. The Northumbrian Garden Parrot draws considerably from that experience but reflects also on his affection for bird watching in his native North East as well as further afield. There is both serious content particularly in the field of conservation issues locally and nationally as well as a lighter look at birding and birders. The narrative ranges from efforts to combat raptor persecution in the Peak District to referencing the Monty Python dead parrot sketch, Fawlty Towers and the Muppet Show's Swedish chef in his birding encounters.
There are many references to Sheffield Bird Study Group and indeed around 20 members of the group past and present merit appreciative mentions in the text. Frequently the narrative returns to Pete's local Millhouses Park and Ecclesall Woods patch. And as befits his affection for the patch all profits from the sale of The Northumbrian Garden Parrot will go towards efforts by The Friends of Millhouses Park to raise the £25,000 needed to provide a new kiddies climbing frame in the Park.
Pete is selling the book for £10 a copy ( a bargain at 350 pages he claims). If anyone is interested in purchasing a copy, Pete, in his new career as a door to door book seller, is happy to deliver anywhere in the SBSG area.
You can contact Pete by email at This email address is being protected from spambots. You need JavaScript enabled to view it. or text/call on 07789 441294
---
Helping Hen Harriers
Wild Justice (Mark Avery, Ruth Tingay and Chris Packham), the RSPB and Hen Harrier Action have joined forces to create an e-action, which enables you to have a pre-written email sent to your local MP/MSP urging that they take action to end the illegal killing of Hen Harriers and other birds of prey, which disproportionately takes place on the UK's driven grouse moors.
It only takes a few seconds to do, and you can opt in/out to receive updates from Wild Justice and/or Hen Harrier Action.
The e-action closes on 31st August, and it is hoped to get the number of participants to 100,000 by then.
PLEASE CLICK HERE TO URGE YOUR POLITICIAN TO TAKE ACTION FOR HEN HARRIERS
---
Remembering Phil Ridsdale - Saturday 12th September 5pm
A new memorial seating bench has been installed in the garden of Spurn Bird Observatory (SBO) dedicated to Phil Ridsdale who sadly passed away earlier this year. Phil was an active SBSG member, a ringer with Sorby Breck Ringing Group and a familiar face around the Spurn Bird Observatory. A socially distanced gathering will be held around the bench in the SBO garden on Saturday 12th September to raise a glass to Phil and his memory. The event has been organised by Phil's many friends at Spurn and will also be attended by his brother. SBSG members and any Sheffield Birders and Ringers who knew him are cordially invited to attend also if they wish to pay tribute to Phil. The weekend of the 12th has been chosen as it would have been the annual Spurn MigFest (cancelled due to Covid-19) in which Phil has been a active participant in previous years. The bench has been built by Graham Speight and overlooks the Orchard - ideal for thrush spotting during autumn migration as birds head inland. The dedication on the bench can be seen in the photo below. SBSG would like to place on record our appreciation to Graham and SBO members and staff for this thoughtful and poignant memorial to Phil.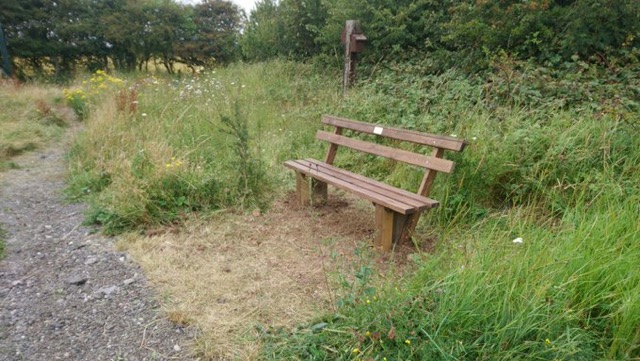 SBSG members wishing to attend can coordinate via Twitter tagging @shefbirdstudy @spurnbirdobs and/or @jonnie_fisk - lift sharing is not encouraged currently unless government advise changes in the meantime.
Birders at Spurn are hoping to organise a sponsored walk in 2021 from Patrington to Kilnsea in honour of Phil and SBSG will post details of how to get involved in this event as and when the plans develop.
---
BTO Garden Birdwatch now free to join
For more information see here.
---
Sheffield and Rotherham Wildlife Trust - Request for help
As part of the SLLP project, we are doing some work with Yorkshire Water at Brooks Bank farmland just to the east of Midhope Reservoir, one of the projects is to re-wet the field located at the corner where Gill Royd Land meets Mortimer Road (SK234985) to make it more suitable for waders.
A request for birders in that area that would be willing to do a semi-regular check for waders in that field. It would be very useful to be able to look at numbers before the works take place and compare them to numbers afterwards.
Please contact Julie Riley.
Julie Riley
Community Ecologist - Sheffield Lakeland Landscape Partnership
Wildscapes/Sheffield and Rotherham Wildlife Trust
37 Stafford Road, Sheffield S2 2SF
Tel: 0114 303 5123
---
Birds of the Sheffield Area 2017
The 2017 edition of our annual report has now been published and has been distributed to everyone who was a paying member in 2018. Under 25 members will have received a PDF version. Non-members can obtain a copy by emailing This email address is being protected from spambots. You need JavaScript enabled to view it.. Price £6 plus £2 p&p.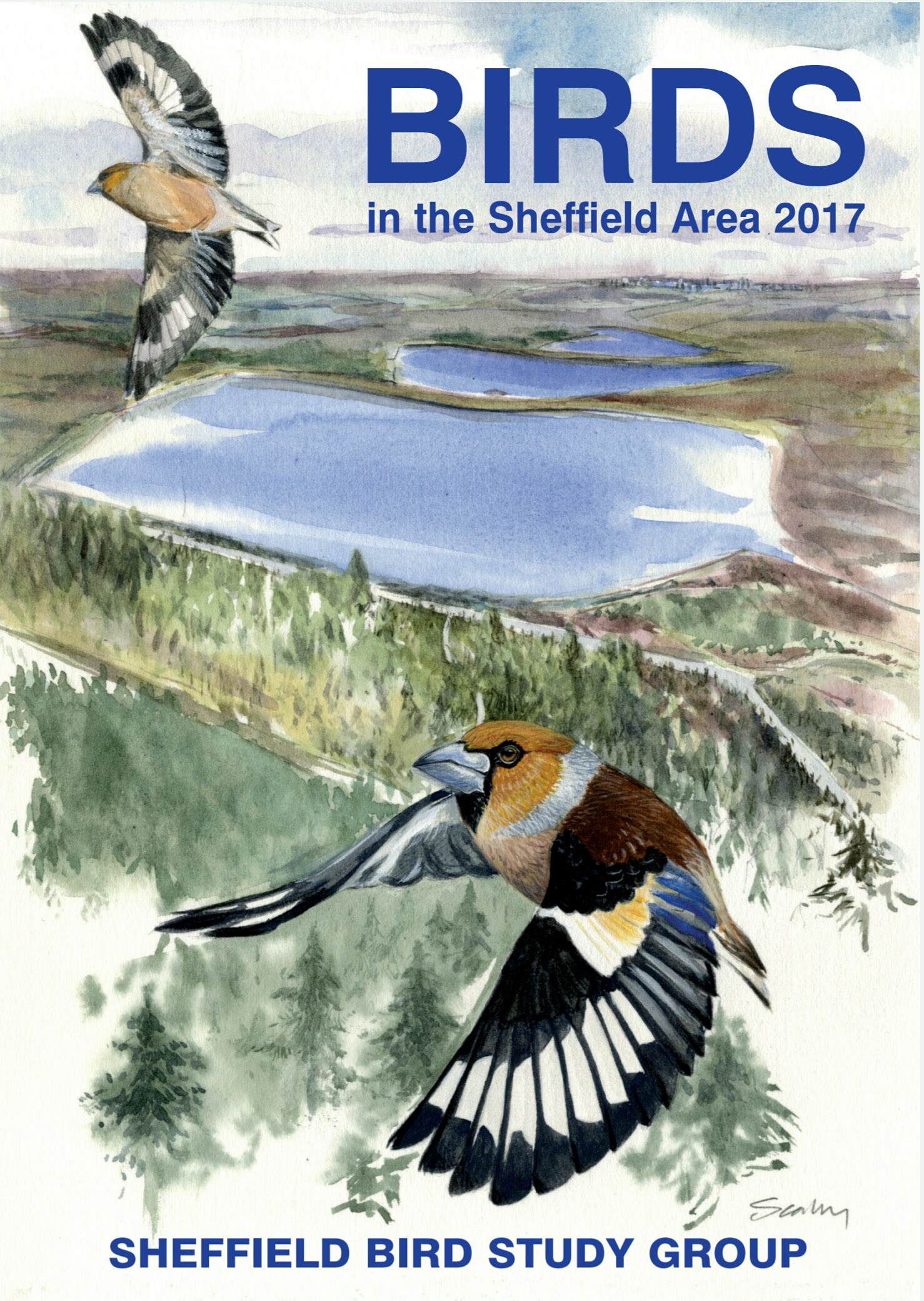 ---
2019 Ring Ouzel survey report
The results of the 2019 Eastern Moors and Burbage Ring Ouzel survey season can be found here, with thanks to Kim Leyland.
---
Meet Richard Hill our new SBSG Chairman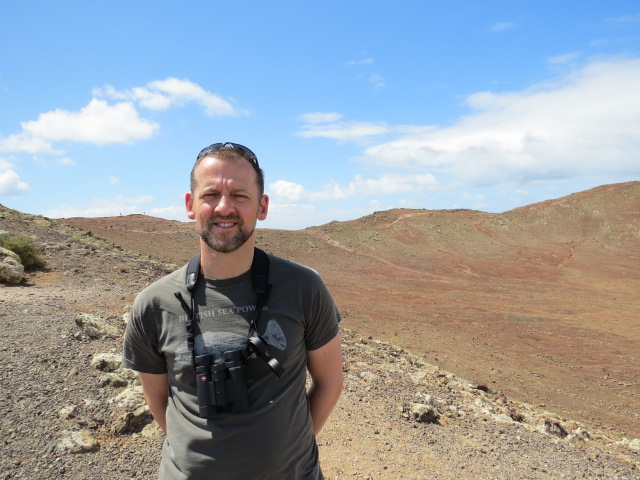 Richard has identified key objectives that he hopes we can achieve -
streamline the running of the Group;
increase our membership, particularly among young people through education and engagement;
form closer links with local & regional groups;
expand our recording effort through new technology.
Read Richard's full chair's statement here
---
Cost-free fundraising for SBSG when you shop online
For details of how to raise money for SBSG, whenever you shop onlne, please see here for details.
---
Colour-ringed Willow Tits
During May 7 juvenile Willow Tits were ringed at Totley. Observers are asked to report all sightings of these colour-ringed birds. Each bird has a unique combination with a yellow ring over another coloured ring that is either blue, yellow, red, orange, black, light green or white, as shown in the example below.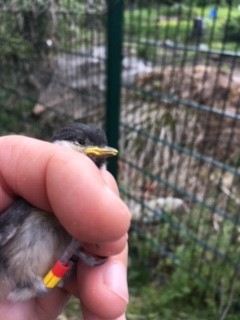 ---
Membership
Good news for younger members
Free membership is now available for persons under the age of 25. The age limit was previously 22. And it's available regardless of whether you're in full time education or not. Existing members should by now have received revised membership certificates from Martin Hodgson, the Membership Secretary. If you haven't but you think you ought to have, or if you are a paying member who now qualifies for free membership, please contact him at This email address is being protected from spambots. You need JavaScript enabled to view it.
---
Help Sheffield University and SBSG support the Sheffield Peregrines
With your help we can provide more opportunities for people to learn more about these amazing birds as well as carry out important research. You can support the Sheffield Peregrines Project by donating through the Virgin Money Giving page.
Click on this link to learn more about the plans for the project and to donate: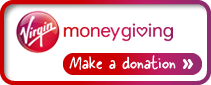 ---