Welcome to the SBSG website
Sheffield Bird Study Group was formed in December 1972 as a forum for birdwatchers in and around the city with an active interest in ornithology. The group's recording area, covering twelve 10km squares with the city roughly in the middle, is hugely diverse, stretching north to the outskirts of Barnsley, south to Chesterfield, east to the lowlands beyond Rotherham and Bolsover, and west to the highest tops of the Peak District National Park.
We aim to promote an interest in birds in the community, provide something of interest to all levels of birder, co-ordinate fieldwork and recording in the area, and work with and complement the work of like-minded local and national organisations for the benefit of birds. SBSG is registered charity No 510857. Click here for more.
Diary Dates
Sheffield and Rotherham Wildlife Trust
Blacka Moor Volunteer Work Day - Saturday 6th July and Thurs 18th July
Thank you to everyone who came and helped at the last volunteer work day tackling the bracken on Lenny Hill. It made a big difference and it was great to see the heathland species thriving. The caterpillar we found that I promised to ID for you was an Emperor moth which is a heathland species. The moth is very speedy and difficult to spot! But pretty if you do spot it. I have attached the picture. The next work day is Saturday 6th July and we will be carrying out some more bracken pulling just below the pastureland. On Thursday 18th July we will be carrying out some footpath work and repairing a few of the horse mounts.
I will be running the Saturday session so please can you meet me in the usual place, Stony Ridge Car Park car park (SK 29581 80251) at 10am. Please remember to bring your lunch, water, sturdy boots and waterproofs. My number is 07927922552 if you need to contact me. Tom will be running the Thursday session.
And lastly, I just wanted to let you know that Mik is leaving SRWT to take up full time employment for his brothers environmental contracting company which is a brilliant opportunity. We will miss him but I'm sure we will still see him out and about. Tom has now started Mik's post so will be running some of the Blacka Moor volunteer work days.
Hannah - Sheffield and Rotherham Wildlife Trust
Tel: 0114 263 4335
www.wildsheffield.com
News
Colour-ringed Willow Tits
During May 7 juvenile Willow Tits were ringed at Totley. Observers are asked to all sightings of these colour-ringed birds. Each bird has a unique combination with a yellow ring over another coloured ring that is either blue, yellow, red, orange, black, light green or white, as shown in the example below.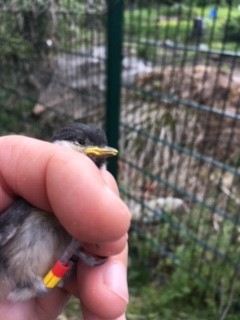 ---
Membership
Good news for younger members
Free membership is now available for persons under the age of 25. The age limit was previously 22. And it's available regardless of whether you're in full time education or not. Existing members should by now have received revised membership certificates from Martin Hodgson, the Membership Secretary. If you haven't but you think you ought to have, or if you are a paying member who now qualifies for free membership, please contact him at This email address is being protected from spambots. You need JavaScript enabled to view it.
---
Help Sheffield University and SBSG support the Sheffield Peregrines
With your help we can provide more opportunities for people to learn more about these amazing birds as well as carry out important research. You can support the Sheffield Peregrines Project by donating through the Virgin Money Giving page.
Click on this link to learn more about the plans for the project and to donate: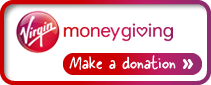 ---