SBSG - a profile
Who are we?
Sheffield Bird Study Group was formed in December 1972 as a forum for birdwatchers in and around the city with an active interest in ornithology. The group's recording area, covering twelve 10km squares with the city roughly in the middle, is hugely diverse, stretching north to the outskirts of Barnsley, south to Chesterfield, east to the lowlands beyond Rotherham and Bolsover, and west to the highest tops of the Peak District National Park.
SBSG is a registered charity (No 510857), and our constitution, recenty updated to reflect technological changes, is available to members from any Committee Member on request.
What are we about?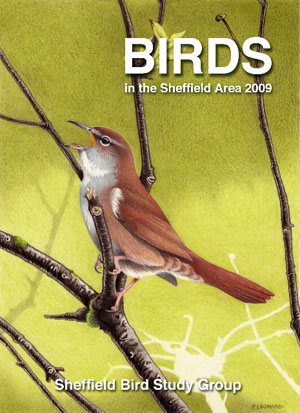 Amongst the aims of the group are :
to promote an interest in birds in the wider community
to provide something of interest to all birders, from the relative novice, through dedicated patch workers, to the experienced expert
to co-ordinate fieldwork and recording in the area, such that the bird life of the area is accurately reflected in publications such as our Annual Report
to work with and complement the work of like- minded local and national organisations for the benefit of birds, such as detailed survey work for external organisations who value our expertise, liaison with national organisations such as BTO in the local fieldwork for national surveys, and species protection work for birds such as Goshawk and Hen Harrier.
Why join us?
We are a small but active group which offers great value for your subscription:
A copy of our award-winning Annual Report: The information in the Report comes from members getting out in the field and submitting thousands of records. They are all valuable, as they help build up the big picture, as well as providing crucial data to support, for example, habitat protection campaigns. The report is free to all members (£8 incl. P&P to non-members).
Bi-monthly issues of the SBSG e-Newsletter: this newsletter provides news and articles packed with information about birds in our area and the Group's activities.
Website access to many thousands of records gathered during the past year, searchable PDFs of past Annual reports and Bulletins, access to all your own submitted records and much more.
The chance to get involved in field-work and improve your skills: For example the recently published local Breeding Atlas came from the involvement of dozens of members surveying 2km squares. This provides comprehensive detail of the change in bird populations since the first local atlas produced by the pioneer SBSG members over 25 years ago. Make your records count, and you may find new areas for birding and new birds, such as the Dartford Warbler found in 2005!
Free attendance at indoor meetings: Our ten indoor meetings offer a varied programme of speakers, from travelogues, through scientific studies from nationally-known ornithologists, to local birders on their local patch. There are also occasional features on identification, local birding, and a 'What's About' slot from the Recording Team.
A programme of outdoor meetings:these comprise mainly free local fieldtrips to introduce members, and potential members, to local sites and their birds.
You will meet fellow enthusiasts in a friendly environment: the SBSG will give you the opportunity to exchange knowledge on local birding and build your own skills and perhaps those of others.
Interested? Then click here for more information about how to join the SBSG.