From: Sarah Sidgwick
Sent: 22 April 2014 11:39
Subject: Upcoming events at Wyming Brook
Dear all,
Thanks to everyone who came to the last Reserve Advisory Group meeting for Wyming Brook and Fox Hagg. The notes from the meeting can be downloaded from our website, here.
Up with the larks: For the early risers among you, we will be running a guided dawn chorus walk at Wyming Brook on Saturday 17thMay, 5.30am – 7.30am. Meeting at the Redmires Road car park, our walk leader will take us around Wyming Brook Drive, helping to identify the birds that we see and hear along the way. Please note that booking is essential and places are limited, so get in touch soon to reserve your place. To help us cover the cost of the walk leader, there is a suggested minimum donation of £4 per person, or £2 for members of the Wildlife Trust. Hot drinks will be provided to set you up for the rest of the day!
River explorers: In May half-term, we will be holding an open drop-in event for younger visitors to the nature reserve. We will be setting up near the stepping stones at Redmires Road on Friday 30th May, 10am – 12pm. Activities will include stream dipping, wildlife ID, and bark boat races. Join in anytime, and feel free to bring a picnic to enjoy afterwards.
Reserve Advisory Group: The next Reserve Advisory Group meeting will be held on Thursday 31st July, 7pm – 9pm. We will be meeting on site, again at the Redmires Road car park, for a walk around Wyming Brook to discuss ongoing management and any issues on the site.
Best wishes,
Sarah Sidgwick
Community Wildlife Ranger (jobshare with Hannah Wittram)
Sheffield and Rotherham Wildlife Trust
Please note that I work part-time (Monday, Tuesday & Friday), for any
urgent matters outside of these days, please contact This email address is being protected from spambots. You need JavaScript enabled to view it.
0114 263 4335
.
Welcome to the new site
Three main things to remember:
You log in to access members-only stuff - enhanced Sightings, Sites and Publications - all material you read
You access it from the top menu rather than the side menu
Other material and functions you access from the side menu just as Guests do - includes all the material you write/submit, i.e. Sightings, Photos and Description Forms
Logging in
Click 'Login' in top menu and enter your SBSG registered email address plus the password from your email. You may also check the 'Remember me' box to speed the login process.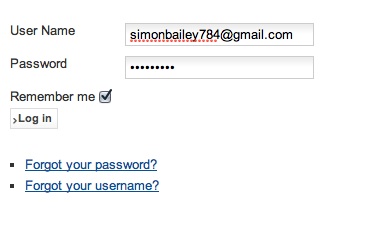 Click 'Login' checkbox to see this dialog: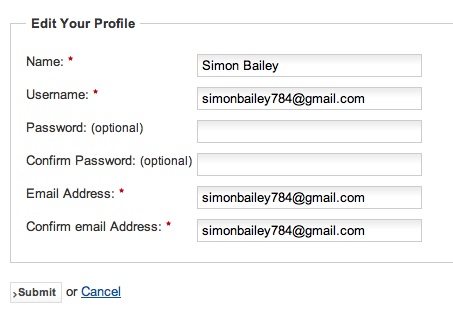 This allows you to change your password if you wish; ignore the fact that the password field is empty (quirk of the software). To change it just type it in the 'Password' and 'Confirm Password' boxes and click 'Submit'.
NB if you don't wish to change it, just click 'Cancel'.
At any time, you may change your password from the 'My profile' link in the top menu.
Sightings, Sites and Publications - the top menu
Sightings includes 'Recent News' and sightings 'By site' as before, but also includes a new function 'My records'. This allows you to browse all the records you've submitted over the past few years.
Side menu items
The ones you will use are mainly 'reference' items, like Meetings and Trips' or 'Visible Migration', and are almost exactly as before. The exceptions are the submission of Sightings and Description Forms, which you will access from the Sightings menu as before.
.
This privacy policy sets out how Sheffield Bird Study Group SBSG) uses and protects any information that you give SBSG when you use this website.
SBSG is committed to ensuring that your privacy is protected. Should we ask you to provide certain information by which you can be identified when using this website, then you can be assured that it will only be used in accordance with this privacy statement. SBSG may change this policy from time to time by updating this page. You should check this page from time to time to ensure that you are happy with any changes. This policy is effective from January 1st 2009.
What we collect
We will collect the following information if you submit bird records online:
What we do with the information we gather
We require this information to allow us to:
contact you with reference to your records
from time to time, to contact you for the purpose of seeking your views about the SBSG in general and the website in particular
forward your bird records with your name to relevant local bird recorders, in order that your records can also contribute to ornithology and conservation at a local level. If you object to this use of your name please email

This email address is being protected from spambots. You need JavaScript enabled to view it.

.
We are committed to ensuring that your information is secure. In order to prevent unauthorised access or disclosure we have put in place suitable physical, electronic and managerial procedures to safeguard and secure the information we collect online.
How we use cookies
A cookie is a small file which asks permission to be placed on your computer's hard drive. Once you agree, the file is added and the cookie helps analyse web traffic or lets you know when you visit a particular site. Cookies allow web applications to respond to you as an individual. The web application can tailor its operations to your needs, likes and dislikes by gathering and remembering information about your preferences. Overall, cookies help us provide you with a better website, by enabling us to monitor which pages you find useful and which you do not. A cookie in no way gives us access to your computer or any information about you, other than the data you choose to share with us. You can choose to accept or decline cookies. Most web browsers automatically accept cookies, but you can usually modify your browser setting to decline cookies if you prefer. This may prevent you from taking full advantage of the website.
Links to other websites
Our website may contain links to enable you to visit other websites of interest easily. However, once you have used these links to leave our site, you should note that we do not have any control over that other website. Therefore, we cannot be responsible for the protection and privacy of any information which you provide whilst visiting such sites and such sites are not governed by this privacy statement. You should exercise caution and look at the privacy statement applicable to the website in question.
Controlling your personal information
We will not sell, distribute or lease your personal information to third parties unless we have your permission or are required by law to do so. You may request details of personal information which we hold about you under the Data Protection Act 1998. A small fee will be payable. If you would like a copy of the information held on you please write to the SBSG Secretary Richard Hill, 22 Ansell Road, Sheffield, S11 7PE. If you believe that any information we are holding on you is incorrect or incomplete, please write to or email us as soon as possible, at the above address. We will promptly correct any information found to be incorrect.
.