Welcome to the SBSG website
Sheffield Bird Study Group was formed in December 1972 as a forum for birdwatchers in and around the city with an active interest in ornithology. The group's recording area, covering twelve 10km squares with the city roughly in the middle, is hugely diverse, stretching north to the outskirts of Barnsley, south to Chesterfield, east to the lowlands beyond Rotherham and Bolsover, and west to the highest tops of the Peak District National Park.
We aim to promote an interest in birds in the community, provide something of interest to all levels of birder, co-ordinate fieldwork and recording in the area, and work with and complement the work of like-minded local and national organisations for the benefit of birds. SBSG is registered charity No 510857. Click here for more.
Diary dates
March 11th 2015 7.30pm
Hicks Building Lecture Theatre 3
Annual General Meeting 2015
- Honorary Secretary's Report
- Honorary Treasurer's Report (what impact will the Atlas have had on the Group's finances?)
- Illustrated Review of the Year 2014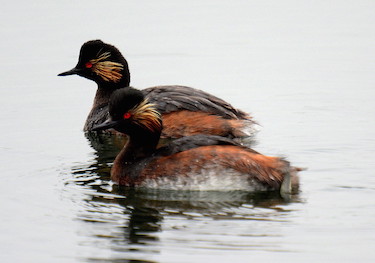 - Short talks from three continents: St Lucia, Namibia and Papua New Guinea
- Recorder's report
---
Local Field Trip - Upper Derwentdale: Saturday March 14th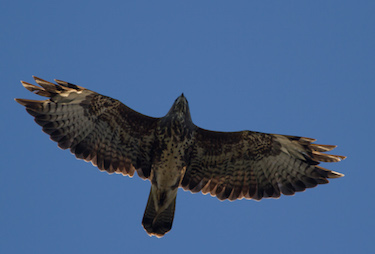 Meet 8.30 am at Windy Corner (200m N of Howden Res dam towers - SK168927). This is a classic site to see a range of raptors in a traditional stronghold, and a classic site for Goshawk, although persecution has taken its toll in recent years. ID tips and guidance on hand should anyone want it. Warm clothing recommended for the couple of hours we'll spend at what can be an exposed spot.
---
April 8th 2015 7.30pm, Hicks Building LT 3
Jon Hornbuckle - Worldwide Birding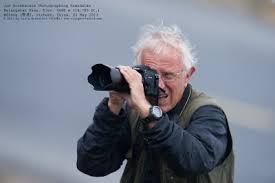 Jon's reputation in the birding world is legendary; with a world list of around 9000 species he lies first or second in the world (depending on the taxonomy used). An early interest in bird's nests, newts and butterflies was re-awakened in 1970 at Bempton, and he hasn't looked back since. He has sampled countless countries on his travels and taken countless photos as well, and no doubt he will amaze us with his photos and stories.
---
For the 2015 schedule click here.
For Member login guidance click here.
Carr Vale Reports from Mark Beevers here
---
News
Sheffield Parks and Open Spaces Survey Is Go!
36 sites now have surveyors, and everything's in place for the survey to get under way. Within the new 'Sheffield Parks Survey' tab under the 'Survey Work' section of the website menu, there's a recording form, habitat questionnaire, methodology sheet and write-ups of the previous surveys (1975-76 and 1995-96). There's also a table showing which parks are taken and which are still free. We'll be using the existing online record submission system to submit details of sightings, as per the methodology sheet. Time to get surveying: go, go, go!
---
Ron's "What to look for in ...... March" update
....... is now available here.
---
Wyming Brook & Fox Hagg update
....... from Sarah Sidgewick can be found here.
---
Sorby Breck Ringing Group - Report 2014
The Sorby Breck report for 2014 is now freely available for download at http://www.britishringers.co.uk/2014-report.php
---
South Peak Raptor Study Group summary report 2014
Wendy's thorough and interesting report revealed a mixed picture of raptor breeding success, but the picture in our area remains fairly dismal, with plenty of unexplained nest failures. The report missed the first e-newsletter due to a misunderstanding, but you can read it here and it is now available in Publications/Articles & Reports in the Members area.
---
2015 Subscriptions
As the New Year gets under way it's time to renew (or begin!) your SBSG membership and support the ongoing work of the Group, with two large local surveys planned for 2015. Members receive a copy of the excellent annual report, free access to indoor meetings and field trips, an e-newsletter and access to a huge amount of material via the members' area on the website. Subs again remain unchanged, which means even better value for money. Martin will be taking subs at next week's indoor meeting, or see http://www.sbsg.org/join-the-group for full details of other options.
Click here to download the Annual Subscription Renewal Form.
---
'Birds of the Sheffield Area' wins YET MORE praise from reviewers!
David Ballance, writing in Ibis, describes "a scholarly work......analyses of species are thorough and painstaking, placing the results firmly in a national context........ingenious maps designed to show both distribution and change." He's also delighted at the correct use of "hectad"!
Meanwhile Mark Cocker, no less, talks of SBSG as "an exemplar that amateur passion for wildlife recording...... an illustrious tradition.....detailed species accounts that are this book's cardinal virtue......For anyone interested in birds in the Sheffield area the book is an absolute must".
'Nuff said I think - follow the links above for the full reviews, then snap another copy as a late Xmas present.
The BTO describe it as an "excellent Atlas" (BTO News, May-June 2014) and the reviewer for British Birds concluded that "The editors and the Sheffield Bird Study Group are to be congratulated. This excellent book will be of wide interest, both to local birdwatchers and to all interested in the wildlife of Sheffield - an often underrated city surrounded by one of the most diverse range of bird habitats in England."'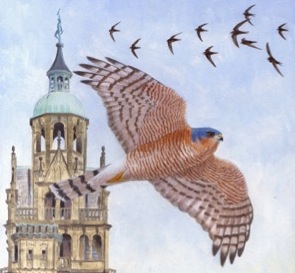 Surely a bargain at only £20!
Have you got your copy yet? Click here to learn how.
---
The SBSG's Social Network!
A reminder to members that the SBSG can now be found on social networking sites Twitter and Facebook, where you can follow the Group for updates.
For our Twitter site please visit www.twitter.com/shefbirdstudy, and for our Facebook "Fan page", please see https://www.facebook.com/SheffieldBirdStudyGroup.
---