Welcome to the SBSG website
Sheffield Bird Study Group was formed in December 1972 as a forum for birdwatchers in and around the city with an active interest in ornithology. The group's recording area, covering twelve 10km squares with the city roughly in the middle, is hugely diverse, stretching north to the outskirts of Barnsley, south to Chesterfield, east to the lowlands beyond Rotherham and Bolsover, and west to the highest tops of the Peak District National Park.
We aim to promote an interest in birds in the community, provide something of interest to all levels of birder, co-ordinate fieldwork and recording in the area, and work with and complement the work of like-minded local and national organisations for the benefit of birds. SBSG is registered charity No 510857. Click here for more.
Diary dates
March 12th 2014 - AGM, including 2013 Review of the Year
Sheffield University Arts Tower LT5
Agenda & Treasurer's Report
Secretary's Report
Review of the Year (I'm expecting another bravura performance from Dave!)
Short presentations featuring Ghana and Spain
Recorder's Report
---
April 9th 2014 - Mark Thomas: Catching the Killers
Sheffield University Arts Tower LT5
Details to follow
---
For the 2014 schedule click here.
For Member login guidance click here.
---
Got your Breeding Atlas yet?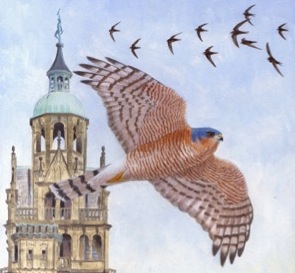 Click here for information on how to obtain your copy
New stuff
Stanage Forum: SBSG Representative Wanted
Stanage Forum and the associated Steering Group was set up in 2000 by the Peak District National Park Authority to produce a Management Plan for North Lees acceptable to all interested parties. Chris Falshaw's forceful presence was replaced on the Steering Group by Wendy Thomson, who has given 8 good years to the task and wishes now to pass on the baton at a crucial time for North Lees. If you are interested in taking over the role please click here for more details.
---
Committee Vacancy
At the AGM on March 12th there will be space for a member of the Group to join the committee. Rod Hinchliffe will be standing down after several years of excellent service, most conspicuously perhaps in his substantial contribution towards the Breeding Atlas. The Group has been doing a lot of good work in recent times, and this is a chance to have an input to what we do and help to shape our future projects. If you are interested, or would like to discuss further what is involved, please feel free to get in touch (This email address is being protected from spambots. You need JavaScript enabled to view it. ).
---
2012 Annual report UPDATE No 2
Apologies to all those wishing to access the 2012 report as a PDF. Due to Richard being even busier than usual, the PDF file has only recently arrived, and now that I have the file, it has been resolutely refusing to upload.
However, it has, in the last 5 minutes, decided to play the game, so Members will now find the 40th Anniversary Report here.
---
Successful launch of the Breeding Atlas
Any concerns about the success of the launch were soon dissipated as Members young and old gathered in good numbers to witness the birth of the new Atlas, and to toast its arrival!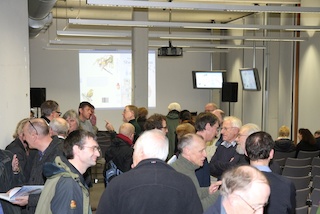 David Wood introduced the event and outlined the complex and painstaking research methodology and production process, followed by Richard Hill's lucid description of the geology, habitats and resulting bird communities that we enjoy.
Professor Tim Birkhead was entertaining and thought-provoking as always, and was seen clasping his Atlas copy tightly to his chest! We understand he was keen to promote the book and its messages in a talk to the BTO.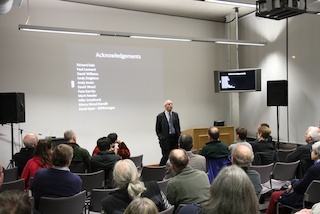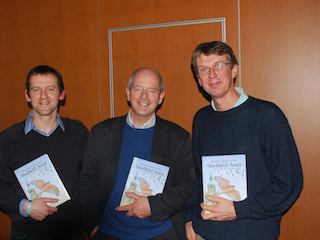 The relief and delight at David and Richard's achievement is plain to see on their faces, and, thanks to Pete Garrity's procurement of wine, there was plenty of chat and banter afterwards!
See further photos of the event on our Facebook page.
Click here for information on how to obtain your copy of the Breeding Atlas
---
2012 Annual report
Everyone who was a subscribing member for 2013 should by now have received their 2012 Annual Report. If anyone has been overlooked, would they please contact This email address is being protected from spambots. You need JavaScript enabled to view it. . Members who are 21 or Under do not receive hard copy but will shortly be able to access the report in a pdf version under Publications in the Members' Area of the website. This area is reached from the TOP menu.
---
The SBSG's Social Network!
A reminder to members that the SBSG can now be found on social networking sites Twitter and Facebook, where you can follow the Group for updates.
For our Twitter site please visit www.twitter.com/shefbirdstudy, and for our Facebook "Fan page", please see https://www.facebook.com/SheffieldBirdStudyGroup.
---
Carr Vale Reports from Mark Beevers here