Welcome to the SBSG website
Sheffield Bird Study Group was formed in December 1972 as a forum for birdwatchers in and around the city with an active interest in ornithology. The group's recording area, covering twelve 10km squares with the city roughly in the middle, is hugely diverse, stretching north to the outskirts of Barnsley, south to Chesterfield, east to the lowlands beyond Rotherham and Bolsover, and west to the highest tops of the Peak District National Park.
We aim to promote an interest in birds in the community, provide something of interest to all levels of birder, co-ordinate fieldwork and recording in the area, and work with and complement the work of like-minded local and national organisations for the benefit of birds. SBSG is registered charity No 510857. Click here for more.
Diary Dates
Indoor Meeting - Wednesday 13th Dec at 7.15pm
Sheffield University Hicks Building - LT5
Justin Carr - Digiscoping Birds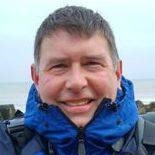 Justin started birding at the tender age of 12, a teacher at School sparked this passion with his love of everything Avian. His interest in Photography soon followed. Digiscoping for him started around 20 years ago even before it really had a name. His first Digiscoping camera was actually a video camera with the Druridge Curlew (still Slender billed in his opinion) being one of the first birds videoscoped. This soon evolved into still's. Fast forward to present day, he now works freelance for Swarovski optic, and hosts workshops for them as well as attending Birdfair demonstrating Digiscoping.
Don't forget to join us for our traditional festive tipple and mince pies afterwards!
News
SBSG 2018 Calendar
Now available!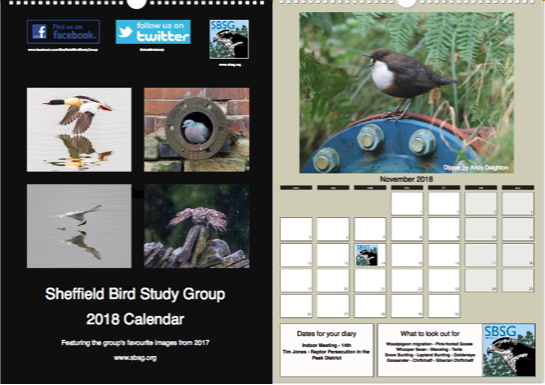 This A3 full colour calendar features the top 12 images from 2017 chosen by members from the Photo of the Month item in the SBSG e-newsletter. The calendar includes a "dates for your diary" section in each month which shows all of the 2018 indoor meetings and field trips. It also features a "what to look out for" section identifying topical species that could be seen in each month.
An absolute bargain for members at the cost price of £5.00 and would make an ideal Christmas gift. An A3 card envelope is provided. The calendars will be available at the December indoor meeting or alternatively contact a committee member by email to reserve your copy now. There are only 50 available.
---
Sheffield Lakeland Consultation
This survey, which closes on the 22nd December, is to help inform the next phase of an application for funding from the Heritage Lottery Fund to improve and develop the local landscape. The project may include:
Restoration work to protect and restore some important places;
Improvements to access to enable more local people to visit and enjoy parts of this landscape;
Improving some visitor facilities and providing more ways for people to learn and benefit from the natural landscape;
Enhancing areas to attract and protect wildlife; and
Funding projects which focus on protecting the culture and heritage of this special landscape.
Answer the survey HERE

---
Good news for younger members.
Free membership is now available for persons under the age of 25. The age limit was previously 22. And it's available regardless of whether you're in full time education or not. Existing members should by now have received revised membership certificates from Martin Hodgson, the Membership Secretary. If you haven't but you think you ought to have, or if you are a paying member who now qualifies for free membership, please contact him at This email address is being protected from spambots. You need JavaScript enabled to view it.
---
Submitting your records
If you have submitted records recently you may have noticed that the calendar facility, when adding the date to your record, is no longer available. This has occurred following a software update, though should not affect users too adversely providing that they add the date in the specified format as shown below.As before, when entering multiple records the date needs inputting only once.

---
Help Sheffield University and SBSG support the Sheffield Peregrines
With your help we can provide more opportunities for people to learn more about these amazing birds as well as carry out important research. You can support the Sheffield Peregrines Project by donating through the Virgin Money Giving page.
Click on this link to learn more about the plans for the project and to donate: